Exceptional Lunch & Dinner Selections
A Good Eats Menu for Everyone
Our Lunch/Dinner Menu provides the comfort for healthy meals between work or after work day. Our talented chef's present to the best meal that you have ever thought of tasting. Check our reviews on Yelp. See what other are saying…
Fast ordering or seat reservations at Yelp Eats!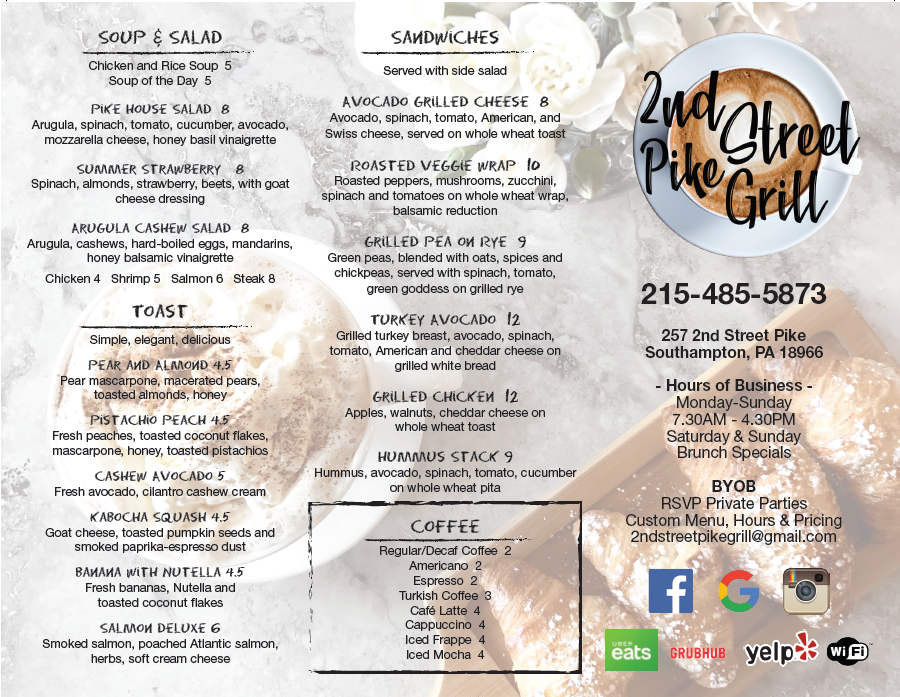 Our amazing chefs, cooks and kitchen staff are culinary experts that combine old world recipes that have been handed down from their ancestors with modern techniques. This culinary brilliance is evident in every entree, side item and beverage.
You can see that our team has put a lot of thought into everything. Excellent food prepared by talented chefs, all at family-friendly pricing. You will definitely not go away hungry after a visit to the 2nd Street Pike Grill. 
2nd Street Pike Grill offers exclusive use of the cafe for events, meetings and parties. These can be scheduled for anytime after 4.30 PM.
The space is free with commitment on food and drinks minimums.  Events can be fully customized by our event manager, allowing customization of hours, and off the menu cuisines and pricing.
Reservation requires non-refundable deposit for more info contact us.
Call our Event Manager at (215) 485-5873